POLYFILM INDUSTRIES ROLLER
MDO NIP ROLLER

Product Description

We supply MDO Stretching Rollers for BOPP, PET & BOPET film manufacturing lines. We provide recoating on old cores, refurbishing and complete new rollers with complete assembly.

Features:

Hardness range: 60 to 85 Shore A
Maximum operating temperature upto 250°C
Sizes ; 800 / 1000 / 1300 / 2300 / 2800 mm etc
Excellent ozone resistance, heat resistance, Abrasion resistance
Strong grip on films for stretching .
Color : Red, yellow, white
CORONA TREATMENT NIP ROLLERS / TUT PRS Nip Rollers

 

Product Description

We are the supplier of largest Corona Treatment Rollers in India having largest capacity 750mm X 11 meters . Our Corona Treatment Rollers are well proven in for treating BOPP & PET Films

Features:

Maximum Dia 780mm X Length 11 meters
Uniform covering throughout the length
Hardness range 50-85 Shore A (Typically 70 Shore A)
Resistance to peak Voltage upto 50 kV for 4 mm
Smooth Surface & lower RA to prevent air entrapment's and smooth release of film

Color : White / Grey
CORONA TREATMENT NIP ROLLERS / TUT PRS Nip Rollers

Product Description

For every Corona Roller a suitable pair of nip rollers is required to get best results . So our nip roller rubber are developed in such a way that optimum cushioning  and prefect crowning is provided to get best nipping and eliminating back treatment on films. We undertake recoating and complete manufacturing of nip rollers for BOPP/PET and CPP lines for PolyFilm Industries

Features:
Excellent Ozone Resistance, Abrasion Resistance
Maximum Operating Temperature 130'c

Anti static properties
Available in Black / Grey & Off White Color
Hardness Range 50-52 Shore A / 50 to 60 Shore A
Cast Unit Nip Roller for Cast Film Chill Roll System

Product Description

We undertake re-coating and also complete new cast unit nip rollers Our rollers are used for remove water from film after extrusion by BOPP & BOPET Film lines

Features:

Excellent resistance for hot water contact
Resistance to ozone
Good abrasion resistance
Anti static properties
Hardness Range: 50- 60 / 65-70 / 80-90 ShoreA
Color -Black / Off-White

 
Layon Roller

Layon Roller

Product Description

Our layon rollers are successfully used and adopted for slitter lines in BOPP / PET Film lines

We design and manufacture Layon Rubber Rollers  by our Specially developed polymer compound that gives better life compared to other layon rollers. Our Layon Rollers have better cut resistance & smooth surface. Unlike other regular Layon Rollers our Rollers does not have jelly effect i.e becoming jelly in use or longer storage time. Our roller remains intact and maintains it property and hardness during use and storage.

We provide Recoating and complete new manufacturing of layon roller in aluminium and carbon fiber cores.

Features:

Hardness range: 30 to 70 Shore A
Maximum operating temperature 100 C
Excellent  Resistance to cut & tear
Ozone Resistance
Smooth Surface
No Jelly Effect
Antistatic Properties
Color- Black / Red / White / Blue
EREMA RUBBER ROLLERS

Product Description

We provide Erema Roller for Erema Plant that is used to make granules from waste films in polyfilms industries

Features:

Hardness range: 70 to 90 Shore A
Maximum operating temperature upto120°C
Excellent Abrasion resistance, cut resistance, working life
Color : Off-White
Spreader Roller / Trim Guide Roller For BOPP-BOPET Film Lines

Product Description

Spreader Rollers are use to support film and avoid wrinkles in film during process for BOPP / PET Film Lines . We provide new & re-coating of worn out spreader rollers . Our specially developed compound polymer gives better life and quality.

Features:

Hardness Range :70 – 85 Shore A
Excellent Abrasion Resistance To Cut Edges Of Film
Color – Off-White / Black
Antistatic Properties
Temperature resistance upto 120 ̊C
Preheating Teflon Coated  ROLLERS

Product Description

We provide special PTFE Coating on Pre-heating rollers . Our coating ensures to raise the film temperature uniformly without putting wrinkles in the film. This increases the polymer mobility and allows greater stretching in the next step without film failure
Chuck Segments For Slitter Lines

 

Product Description

We also supply chuck segments used for breaking or stopping of winding rollers in slitter lines . We provide re-coating of old chuck segments and also new segments for slitter lines in BOPP /PET Film lines
Worm Rollers

Product Description

We are offering a quality range of Worm Rubber Rollers, which can be customized as per the clients' specific requirements. These are widely used in Poly films industries to remove wrinkles in films during on-line process and are also catering to the requirements of diverse industrial applications.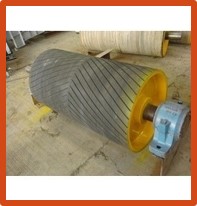 Product Description
We undertake rubberising/ rubbercoating Conveyor Pulleys to OEM for Conveyor Systems Manufacturer . We provide coatings in Natural Rubber, Synthetic Rubber, Neoprene Rubber etc . Hardness Range 40 to 80 Shore A or as per customer requirement .
Plain & Grooved Pulleys
We make pulley's for Drive, Non-drive, Head and tail pulley's, Grooved pulley's like hearing bone and diamond checkered.
Product Description
Rubber Linings
Manufacturer & Supplier of a wide range of products which include Industrial Linings such as Rubber Linings, FRP Linings and Rubber Lining of Tanks, Vessels & Pipes in natural Rubber, Butyl Rubber, Neoprene Rubber, etc.
We undertake rubber lining of Butterfly Valves of dia. upto 1600 mm. This is in accordance with the industrial standards and are also widely demanded in the market and fulfills the varied industrial usage.
We offer Rubber Linings in accordance with the IS 4682 Standards and others. We provide both hard and soft rubber lining as required by customers. Some of our major areas of rubber Lining are Tanks Vessels & Pipes, Dosing tanks, Stirrers, Inside & Outside lining Valves, ETP tanks, DM Storage tanks, Acid Tanks, etc.
Printing Industries Roller
Product Description
Creating a niche Printing Industries Rollers such as Rotogravure Printing Rollers, Nitrile Rollers, PVC NBR Rollers and EPDM Rollers at its best, with utmost quality.
NITRILE ROLLERS
We are offering a wide range of Nitrile Rollers, which is widely renowned for its good abrasion resistance property and excellent resistance to oil. Nitrile Roller is basically a co-polymer of butadiene and acrylonitrile having a hardness range from 20 to 100 shore A and maximum operating temperature 120 degree Celsius.
Embossing industry
Printing industry
Packaging industry
Coating industry
ROTOGRAVURE PRINTING ROLLERS
We offer rubber Rotogravure Printing Rollers. We provide roll for Solvent less and Solvent base both application . Our rubber rollers have best and smooth surface finish which provide best results in printings.
Features
Good alkali resistance, water resistance, abrasion resistance.
Excellent resistance to aliphatic solvents
Application
Printing industry
Packaging industry
Coating industry
Laminating industry
PVC NBR ROLLERS
Our range of PVC NBR Rollers is widely used in printing application. Owing to its combination of PVC resin rubber, our range has good physical properties and ozone resistance. The range offered by us is mainly used in printing, packaging and coating industries.
Features:
Hardness range: 20 to 85 Shore A
Maximum operating temperature 80°C
Good alkali resistance, ozone resistance, abrasion resistance, tear resistance
and resistance to aliphatic and aromatic solvents
EPDM Rollers
We are engaged in offering clients a wide range of EPDM Rollers (Ethylene Propylene    Diene Monomer), which is considered as non-polar type polymer has a great resistance to polar solvents. These rollers have hardness range from 20 to 85 shore A and have a maximum operating temperature 150 degree Celsius. Our range is widely renowned for its ozone and weather resistance features.
 Features
Good alkali resistance and resistance to dilute acids
Excellent Ozone resistance and
resistance to 'polar solvents' ketones and esters, water resistance
Application:
Embossing industry
Printing industry
Packaging industry
Coating industry

Product Description
We Manufacture & Supply Polyurethane Rollers and moulded products as per customer requirement and application.
We manufacture and supply Polyurethane (PU) Rollers in India for various Industries and Application . Hardness Range : 20-95 Shore A Color: Red / Black / As per requirement Application – * Steel Industry *Color Coating Application *Conveyor Application *
Polyurethane Molded parts
We offer Polyurethane, Castable Polyurethane in casting and malLeable both type as per demands. We offer Polyurethanes rollers and moulded parts as per demands. Hardness range 50 to 95 shore A.