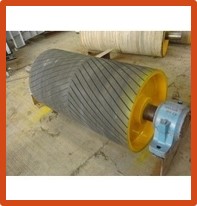 Product Description
We undertake rubberising/ rubbercoating Conveyor Pulleys to OEM for Conveyor Systems Manufacturer . We provide coatings in Natural Rubber, Synthetic Rubber, Neoprene Rubber etc . Hardness Range 40 to 80 Shore A or as per customer requirement .
Plain & Grooved Pulleys
We make pulley's for Drive, Non-drive, Head and tail pulley's, Grooved pulley's like hearing bone and diamond checkered.